Perseid Meteor Shower–Update
Yes, there was a Perseid outburst last night. Maybe two. Reporting via the Central Bureau of Astronomical Telegrams, Peter Jenniskens of the SETI Institute writes that "predicted encounters with the 1-revolution and 4-revolution dust trails of comet 109P/Swift-Tuttle were observed on Aug. 12" with peak rates as high as 190 meteors per hour. Preliminary data from the International Meteor Organization (IMO) Video Network suggest that the two dust trails merged into a nearly-single peak not much more than ~1 hour long. A second broader outburst, well placed for US observers, peaked 8 hours later. Check the full telegram for details.
An all-sky camera operated by Kevin Palivec caught the US outburst over Hawley, Texas. And that's not all. The movie he submitted to spaceweather.com also captured numerous airplanes, satellites, and sprites: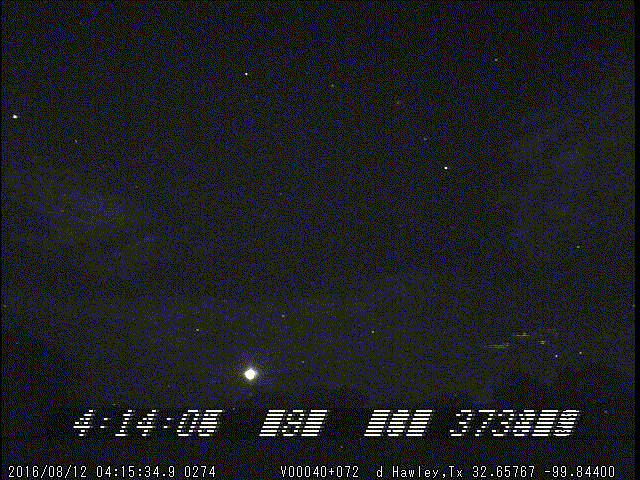 "Last night was a spectacular evening for watching the Persied meteor shower here in Texas," says Palivec. "Early in the evening we were treated to some sprites and lightning off to the northwest, which was worrying because it meant we might get clouded over. However that didnt happen, and after midnight the sky lit up with streaks of Persieds flashing across the sky."
The shows not over. Earth is still inside the debris zone of Comet Swift-Tuttle, and meteor rates could continue apace or even increase on Aug. 12-13. Observing tips: Go outside between midnight and dawn on Saturday morning. Allow about 45 minutes for your eyes to adjust to the dark. Lie on your back and look straight up. Perseids can appear anywhere in the sky, but their tails will point back to a single point in the constellation Perseus: sky map.
courtesy of spaceweather.com


IF YOU ENJOY THIS SITE PLEASE TELL OTHERS ABOUT US…SHARING IS CARING
SHOW YOU CARE, COMMENT AND SHARE (BELOW)